About 25% of Australia's current population was born overseas, making it a very multinational and multiethnic country. In the future, as the number of foreign residents in Japan is expected to increase, Japan can look at Australia as a successful example of how to incorporate a policy with regards to multiculturalism on many levels, including government, Non-profit Organisations, and throughout the community.
Japan's society is becoming more culturally diverse as the number of foreign residents increases. The foreign population living in Japan exceeded two million as of 2013. Among the so-called "newcomers" who came to Japan during and after the 1990s, there are some who do not understand the Japanese language, and various problems arise as a result of having difficulty communicating in Japanese.
Local governments are at the forefront of public policy related to this demographic shift. It is becoming increasingly important for them to be able to offer appropriate community services for their foreign residents. Also, Japan's local government employees and international association employees are working to encourage the further development of international exchange opportunities.
Because of this, we define the concept of various nationalities and races building relationships centered on equality and recognition of each others' different cultures, and coming together in the same local community of society, as "multicultural coexistence." Local governments across the country are working to push forward policies to promote this.
CLAIR Tokyo plays an important role as the information centre for multiculturalism and provides resources to assist local governments in this process. We are also researching advanced multicultural policies in Australia. See more information on our role in relation to multiculturalism and assisting local governments.
Multiculturalism study tour
Every year, we organize an official multiculturalism study tour around Sydney area for Japanese local government officers and staff. Last year, eight officers and staff to participated in the study tour from 25 to 30 November.
The purpose of the delegation's visit was to research multiculturalism, and to view first-hand, services for migrants of different backgrounds in Australia. Over the study tour, the delegation visited the following destinations.
– Community Relations Commission for a multicultural NSW
– Parramatta City Council
– Community Migrant Resource Centre
– NSW Police Force
– Fairfield High School
– Bankstown City Council
– Immigrant Women's Health Service
– Fire and Rescue NSW
– University of NSW
It was an invaluable opportunity for the delegation to learn about Australia's multicultural services and programs. Thanks to the cooperation of NSW government, councils, NGOs, school and UNSW, we now have a lot of research reports on Australian multiculturalism that are very useful for Japanese local governments. Again, I thank all of the agencies which have accepted our delegations in the past and provided us useful information.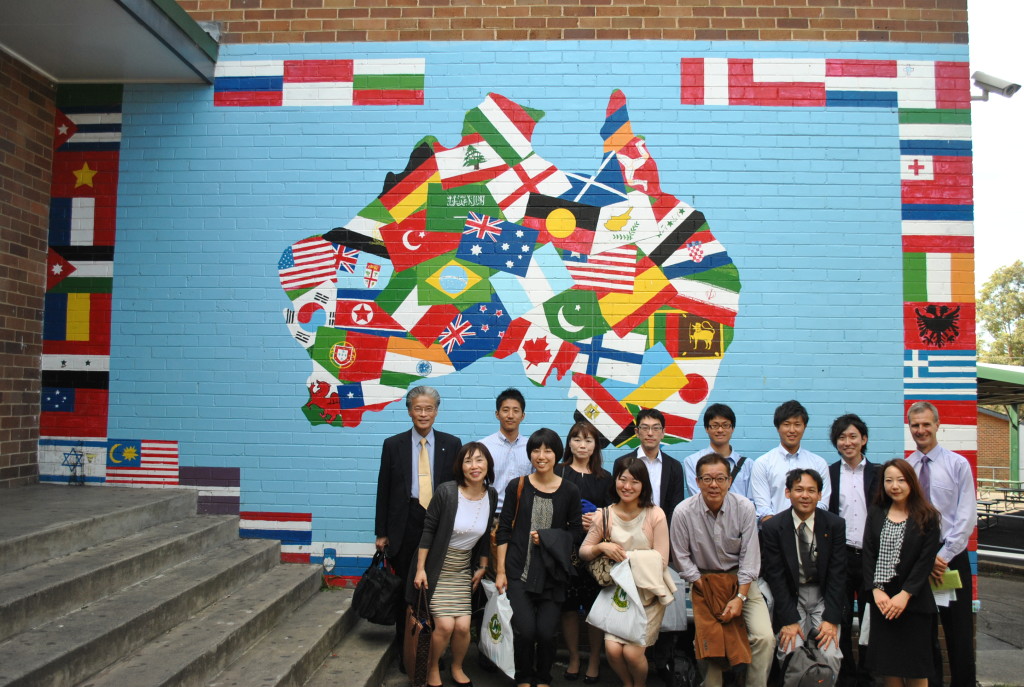 Willoughby Spring Festival, Multicultural Costumes Show
A Multicultural Costume Show was held on 19th September at the Willoughby City Council Concourse Theatre. The show was part of the 2012 Willoughby Spring Festival, and was an event to illustrate Willoughby's diversity. Our director, Yasuhiko Tanabe, and staff members were invited to represent CLAIR at the event. During the show, local groups representing eleven countries including Japan introduced their culture, traditional dress, and dances.
At the end of the show, all participants joined each other on the stage, in a colorful display of multiculturalism. The Mayor of Willoughby joined them to give a closing address. Leaflets promoting the event were written in eight languages, further highlighting Willoughby's efforts in the area of multiculturalism.
[print-me]