The CLAIR Forum is an annual one-day seminar organised and sponsored by the Japan Local Government Centre (CLAIR, Sydney). It was inaugurated in 1995 to provide an opportunity for Australian and New Zealand government officials and academics to exchange knowledge and ideas with other peers and visiting experts from Japan on a topic of mutual interest.
Applications are now open!
2017/2018 CLAIR Forum
Schedule: Monday, 5 February, 2018  1:30pm – 6:30pm
Venue: Breakfree Aanuka Beach Resort (11 Firman Drive, Coffs Harbour, NSW 2450)
Fee: Free
Theme of the Forum: Local governments' policies on regional revitalisation
Currently, all regions in Japan are engaged in a number of different efforts to promote regional revitalisation. They have been put in place as a way for each region to autonomously deal with the challenges they face and may provide some food for thought to local governments in regional Australia with regards to the steps they are taking to address their challenges.
Presentation outline by CLAIR staff (Draft)
The Community-Reactivating Co-operator Squad and their activities
Reutilisation of closed schools
Case Study: regional resources for tourism
Making and using of the Regional area promotion movie
And 3 more speakers assumed.
Registration: Please fill in the Form and send it to mailbox@jlgc.org.au by Friday 19 January 2018.
For information on upcoming CLAIR FORUM 2017 please see:  2017 CLAIR FORUM
2016 CLAIR FORUM
"Local Government Environment and Sustainability"
        Date: Wednesday 24 February  Time: 2:00pm to 5:00pm  Venue: Aerial UTS Function Centre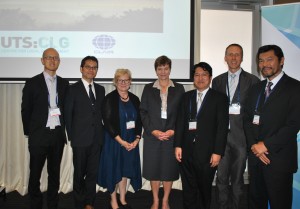 This year's CLAIR Forum, hosted by CLAIR in conjunction with University of Technology Sydney: Centre for Local Government (UTS:CLG) successfully opened on Wednesday 24 February.
This year's theme was "Local Government and Sustainability" and presentations were conducted over two sessions, "Waste management and recycling" and "Global environment and local government".
We invited UTS: CLG Director, Associate Professor Roberta Ryan as a facilitator, Dr. Alice Howe Sustainability Manager at Lake Macquarie City Council and Prof. Damien Giurco, Professor of Research Futures at the Institute for Sustainable Futures, UTS as guest speakers to this year's forum.
Also, the director of CLAIR Sydney, Katsunori Kamibo, Deputy Director, Masahisa Yoshimi, Assistant Director, Tomohiro Koike and Researcher, Jason Khoh delivered presentations at the forum for the first time.
An audience of around 40 local and state government representatives joined the forum, making for lively question and answer sessions.
The forum began with a welcome speech from the Director. He talked about how waste management and recycling are important ongoing concerns for local governments in both countries. He also briefly described how Japanese local governments' address waste management, global warming and the response from residents. Roberta Ryan then mentioned how local governments in Australia are no longer just traditional service-providers (ie, 'roads, rates, and rubbish') and pointed out that communities here, both rural and urban, list the environment as a top-five issue from their Why Local Government Matters research.
Session 1 "Waste management and recycling"
The first session was delivered by Mr. Yoshimi, Professor Giurco and Mr. Khoh. Mr. Yoshimi presented on how residents in Nagoya sort and dispose of domestic garbage.
He also described how citizens and private companies are working together in becoming a more recycling-based society through actively promoting waste reduction and recycling efforts at the local government level.
Professor Giurco gave an overview of waste generation and recycling in Australia. He also explained some sustainability policies and enlightened the audience with case studies from Marrickville and Waverley council and further elaborated on some future NSW initiatives.
Mr. Khoh compared waste data from Australia and Japan, highlighted some unique and innovative solutions at the local-government level in Nerima City (Tokyo) and Ryde City Council, and suggested ways in which local governments and residents could further promote sustainable and ecological waste and recycling practices.
Session 2 "Global environment and local government"
Mr. Koike explained Japan's response to the Kyoto Protocol and what Japan should do to combat global warming in the future. He said it's important that we all try to contribute in a positive way and how it is our responsibility to hand the earth down safely to our children and grandchildren.
Dr. Howe presented on how local governments can and are making an equitable contribution to global emissions reduction. She described how Lake Macquarie City Council has been actively working to make an equitable contribution to reducing global greenhouse gas emissions as this effort seeks to mitigate future climate risks from affecting livelihood, property and natural systems.
Lastly, Mr. Kamibo talked about Japanese local government initiatives providing examples of Sakai City's efforts. He explained how it is difficult for local governments to influence big businesses into practicing more environmentally friendly policies. However, he argued that since big businesses are ultimately made up of people, the local government should strive to inform and educate the community as this is the "key" in influencing big business activities in reducing waste and emissions.
During the question and answer session, participants discussed the role of local governments and communities in sustainability strategies and what they should do in the future to promote environmental sustainability.
We had a valuable opportunity to hear case studies addressing challenges facing local governments in both Australia and Japan through this year's forum.
We thank all speakers and participants for making this year's forum a great success!

[print-me]