It is a great honour to introduce myself as the eighth director of the Japan Local Government Centre (CLAIR, Sydney). Established in 1994, our mission has been to help develop the relationship between Japanese local governments and those of Australia and New Zealand.As the director, I would like to do my best to foster sister city, exchange information about challenges local governments are facing, and support former and future JET (Japan Exchange Teaching) program participants.
If you are interested in any of these matters, please feel free to contact us.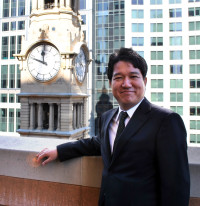 I entered the Ministry of Interior (now Ministry of Internal Affairs and Communications) twenty years ago. For half of my career, I have worked for the central government, and for the rest of it, I worked for local governments.
I am interested in and would like to study Australia's and New Zealand's local government system, and I want to discuss how to promote the welfare of residents through strengthening local governments' roles.
In Japan, each local government is expected to practice administration, according to their own regional realities, using their own judgement and responsibility. To assist this, comprehensive decentralisation reforms were implemented twice, in 2000 and in 2011. I closely worked on the planning of these decentralisation reform initiatives both in the Ministry of Interior and in the Japanese Central Government's Cabinet Office. I would like to share with you what we have learned through these reforms.
I came to Sydney with my wife and two children. I would like to enjoy life in Australia and New Zealand with my family, to try delicious dishes, see fascinating events, wonderful views, interesting sites and experience heart-warming hospitality.
My recent career is as follows:
Apr 2012-Mar 2015   Director General of Finance Bureau, Sakai City Government
Aug 2010-Mar 2012   Deputy Director, Office for Decentralisation Reform, Cabinet Office
Jul 2005- Aug 2007   Director, Municipal Administration Division, General Affairs Bureau, Wakayama Prefectural Government
Sep 2002- Jun 2005   Deputy Director, Crisis Management Division, Cabinet Secretariat
Apr 2001- Aug 2002   Director, Treasury Division, Finance Bureau, Yokohama City Government
Apr 1998- Mar 2001   Unit Chief, Decentralisation Reform Division, Local Administration Bureau, Ministry of Interior (now MIC)
Again I am very happy to work with you here and looking forward to seeing you soon.
Katsunori Kamibo, Director
[print-me]